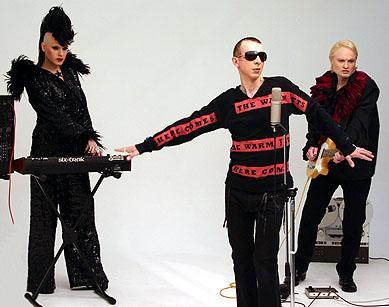 Un día estoy en una tienda Garbarino y de uno de los horribles equipos en los que se escucha música hoy día suena "Baby´s on Fire" de Here Come the Warm Jets de Eno; en un versión bailable. Le pregunto al empleado y me contesta canchero: MP·3... como si fuera el nombre de la banda. Idiota.
Mucho tiempo despues derivando encuentro un videito con dos músicos -los T-Total- en plan fan club de Sigue Sigue Sputnik y el señor Marc Almond.
Disfrutenlos en: http://www.pure-mint.com/video/babysonfire_60sec-video.html
Baby´s es una de mis canciones favoritas... Marc pelea y sale victorioso (algo sabe de esto de versionar). El solo de Fripp -uno de los mejores, el mejor Fripp siempre está fuera de sus discos- es reemplazado un twist en la melodía que nos eleva.
Aquí está la letra. Mi parte favorita va en rojo.
BABY'S ON FIRE
Baby's on fire
Better throw her in the water
Look at her laughing
Like a heifer to the slaughter
Baby's on fire
And all the laughing boys are bitching
Waiting for photos
Oh the plot is so bewitching
Rescuers row row
Do your best to change the subject
Blow the wind blow blow
Lend some assistance to the object
Photographers snip snap
Take your time she's only burning
This kind of experience
Is necessary for her learning
If you'll be my flotsam
I could be half the man I used to
They said you were hot stuff
And that's what Baby's been reduced to...
Juanita and Juan

Very clever with maraccas

Making their fortunes

Selling second-hand tobaccoes
Juan dances at Chico's
And when the clients are evicted
He empties the ashtrays
And pockets all that he's collected
But Baby's on fire!
And all the instruments agree that
Her temperature's rising
But any idiot would know that.